Gvoke HypoPen®
The simple solution you can count on.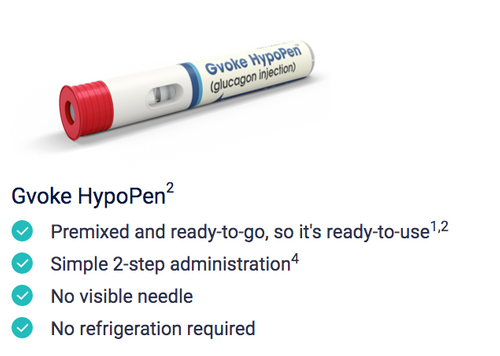 What Is Gvoke (Glucagon Injection)?
Gvoke HypoPen® is the first-ever autoinjector for very low blood sugar. It is premixed and ready to go, with no visible needle. That means it's easy to use!
$0 Co pay available for eligible patients. Click here to learn more.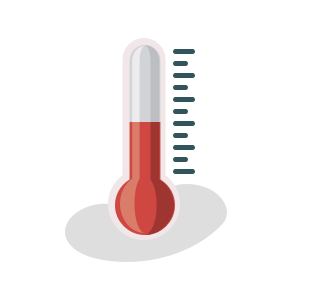 Gvoke should be stored at room temperature.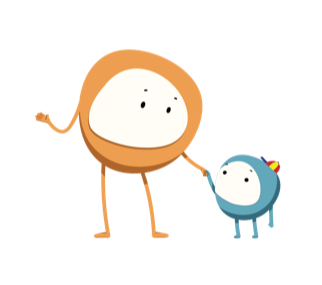 Gvoke comes in 2 premeasured doses for:
adolescents and adults (1.0 mg)
kids (0.5 mg)
*Kids younger than 12 who weigh at least 100 pounds may be prescribed the 1.0 mg dose.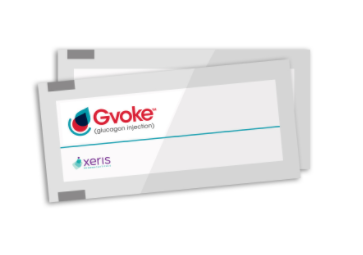 Gvoke comes in a convenient 2‑pack
Keep one with you and the other at home, school, or work. Put it in a spot where you can get to it quickly. Make sure you tell others where you keep Gvoke, just in case you can't get to it yourself. Also, be sure to tell them that Gvoke needs to stay in its sealed foil pouch until they are sure that they're going to use it.
References: 1. Gvoke [prescribing information], Chicago, IL; Xeris Pharmaceuticals, Inc. 2. Gvoke HypoPen [instructions for use], Chicago, IL: Xeris Pharmaceuticals, Inc. 3. Gvoke Pre-Filled Syringe [instructions for use], Chicago, IL: Xeris Pharmaceuticals, Inc 4. Valentine V, Newswanger B, Prestrelski S, Andre AD, Garibaldi M. Human factors usability and validation studies of a glucagon autoinjector in a simulated severe hypoglycemia rescue situation. Diabetes Technol Ther. 2019;21(9):522-530.
LOW BLOOD SUGAR EVENTS CAN BE UNPREDICTABLE. GVOKE CAN HELP.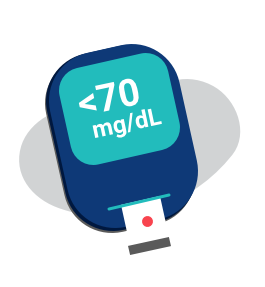 What Is Very Low Blood Sugar?
Low blood sugar, also called hypoglycemia, occurs when your blood sugar gets below 70 mg/dL. When this happens, you can consume sugary foods or drinks to bring your blood sugar back up.
Very low blood sugar, or severe hypoglycemia, occurs when your blood sugar gets so low that you need help to bring it back up. Sometimes people with very low blood sugar may have a hard time thinking straight or controlling their body, get very tired, refuse to eat, pass out, or even have a seizure. It is an emergency situation that needs to be treated immediately.
Very low blood sugar can be treated with glucagon.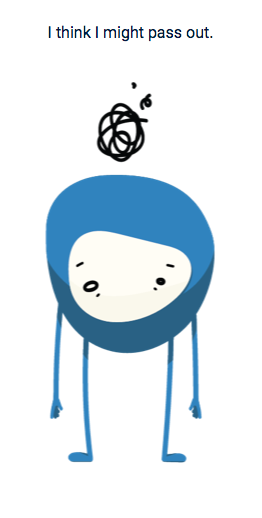 Who Is At Risk For Very Low Blood Sugar?
There are many reasons that people may be at risk for very low blood sugar. You may be at a higher risk if any of the following apply to you:
-You take insulin or sulfonylurea to help you manage your diabetes
-You exercise at an intense level
-You tend to skip meals
-You have an inconsistent schedule
-You're often stressed
-You have tight blood sugar goals
-You tend to have insulin pump problems
-You're more sensitive to insulin
-You've had very low blood sugar in the past
-You have a hard time recognizing signs that your blood sugar is low
-You've had diabetes for a long time
-You have trouble taking your medicine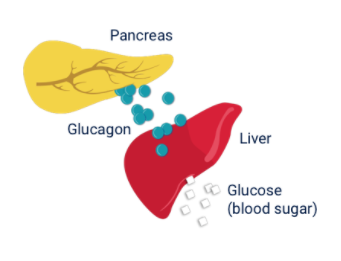 What Is Glucagon?
Glucagon is a natural hormone that exists in the body. The body uses it to bring up your blood sugar when it gets low. It is important to remember that glucagon is NOT glucose, which is the sugar your body uses for energy.
Glucagon is also a medicine that increases the amount of glucagon in your body to bring up your blood sugar when you're experiencing very low blood sugar.
Before Gvoke, people needed to go through a lot of steps to get glucagon treatments ready to be used. This made emergency situations even more challenging and stressful.
Guidelines For Using Glucagon
The American Diabetes Association recommends that glucagon be prescribed for everyone who has an increased risk for very low blood sugar, so it's available should it be needed.
References: 1. American Diabetes Association. Glycemic targets: Standards of medical care in diabetes—2019. Diabetes Care. 2019;42(suppl 1):S61-S70. 2. National Institute of Diabetes and Digestive and Kidney Diseases. Hypoglycemia. https://www.niddk.nih.gov/-/media/Files/Diabetes/hypoglycemia_508.pdf. Published October 2008. Accessed June 4, 2019. Published August 2016. Accessed May 28, 2019. 3. Kedia N. Treatment of severe diabetic hypoglycemia with glucagon: an underutilized therapeutic approach. Diabetes Metab Syndr Obes. 2011;4:337-346. 4. Geller AI, Shehab N, Lovegrove MC, et al. National estimates of insulin-related hypoglycemia and errors leading to emergency department visits and hospitalizations. JAMA Intern Med. 2014;174(5):678-686. 5. Gvoke [prescribing information], Chicago, IL; Xeris Pharmaceuticals, Inc. 6. GlucaGen®HypoKit® [instructions for use]. Plainsboro, NJ: Novo Nordisk, Inc.
INDICATION AND SAFETY SUMMARY
GVOKE is a prescription medicine used to treat very low blood sugar (severe hypoglycemia) in adults and kids with diabetes ages 2 years and above. It is not known if GVOKE is safe and effective in children under 2 years of age.
WARNINGS
Do not use GVOKE if:
you have a tumor in the gland on top of your kidneys (adrenal gland), called a pheochromocytoma.

you have a tumor in your pancreas, called either an insulinoma or a glucagonoma.

you are allergic to glucagon or any other inactive ingredient in GVOKE.
GVOKE MAY CAUSE SERIOUS SIDE EFFECTS, INCLUDING:
High blood pressure. GVOKE can cause high blood pressure in certain people with tumors in their adrenal glands.
Low blood sugar. GVOKE can cause low blood sugar in certain people with tumors in their pancreas.
Serious skin rash. GVOKE can cause a serious skin rash in certain people with a tumor in their pancreas called a glucagonoma.
Serious allergic reaction. Call your doctor or get medical help right away if you have a serious allergic reaction including:
rash

difficulty breathing

low blood pressure
COMMON SIDE EFFECTS
The most common side effects of GVOKE include:
nausea

vomiting

swelling at the injection site

headache
These are not all the possible side effects of GVOKE. For more information, ask your doctor.
Call your doctor for medical advice about side effects. You are encouraged to report side effects of prescription drugs to the FDA. Visit www.fda.gov/medwatch, or call 1-800-FDA-1088.
BEFORE USING
Before using GVOKE, tell your doctor about all your medical conditions, including if you:
have a tumor in your pancreas

have not had food or water for a long time (prolonged fasting or starvation)
Tell your doctor about all the medicines you take, including prescription and over-the-counter medicines, vitamins, and herbal supplements.
HOW TO USE
Read the detailed Instructions For Use that come with GVOKE.

Make sure your caregiver knows where you keep your GVOKE and how to use GVOKE correctly before you need their help.

Your doctor will tell you how and when to use GVOKE.

GVOKE contains only 1 dose of medicine and cannot be reused.

After administering GVOKE, the caregiver should call for emergency medical help right away.

If the person does not respond after 15 minutes, another dose may be given.

Tell your doctor each time you use GVOKE.

Store GVOKE at temperatures between 68°F and 77°F. Do not keep it in the refrigerator or let it freeze.

Keep GVOKE in the foil pouch until you are ready to use it.
Keep GVOKE and all medicines out of the reach of children.
For more information, call 1-877-937-4737 or go to www.GvokeGlucagon.com.